One of the best new records of 2020 was an addition to our collection of jazz harp records. It's really great and it's This Is Not a Harp by the Marcella Carboni Trio.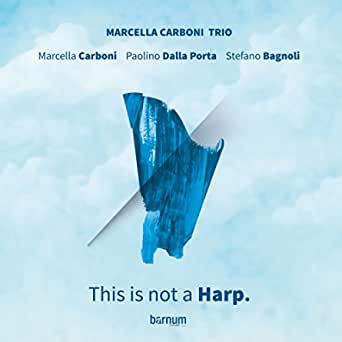 The players are Marcella Carboni on electroacoustic harp, Paolino Dalla Porta on double bass and Stefano Bagnoli on drums.
Most of the tunes are written by Carboni, with two credited to Dalla Porta and one to Bagnoli. There are also four short improvised pieces credited to Carboni and Dalla Porta.
Carboni explains in liner notes (presented in both Italian and English) that she was inspired by Magritte (hence the album title) and conceived of this record as a surrealistic painting.
She followed this idea both in structure and also within the pieces themselves, making use of sonic manipulation to lend appropriately strange and unexpected qualities to the music.
One note for guitarists: One of Carboni's tunes here is a variation on Jim Hall's "Careful" and it's wonderful to hear what she did with her inspiration. She calls her piece "Mindful" and it's an excellent example of her technical skill as well as musicality.
There's a wide range of approaches and feels, from the jazz walts of "The Wheel" to the more tranquil waltz of "La Follia Italiana". "The Treachery of Sounds" has interesting use of electronic effects on the harp while "Resonance" is just a lovely dreamy tune.
The whole record is fantastic and I hope we can hear more from Marcella Carboni soon!
---