2012 September 12 • Wednesday
This was the best record I bought in Seattle, Everybody's Surfin' by Ricky Vale and his Surfers. I picked it up at Golden Oldies, same place where I found the Rock, Pretty Baby soundtrack.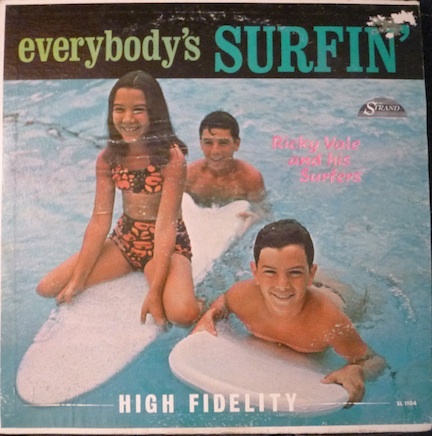 I almost didn't buy it since it looked like some kind of cheapo, fly by night rip off and the names of the tunes were not exactly inspiring. But it's great!
The guitars, apparently played by Mark Pastner and Benjie Lipman, have the right, reverby sound but the music is more lounge and exotica than surf, played by a small combo that features organ and saxophone. The organ, saxophone and guitar solos are all really good and the general feeling is late night and pleasantly blurry.
The first track on Side 1 is "Ghost Surfin' Parts 1 & 2", an aptly haunted-sounding tune in 3/4 or 6/8 or something.
This is followed by "Surfin' Surcotash Parts 1 & 2", which is like "Tequila" but more laid back, almost tranquilized. The best thing about this record is the band's thick sound, helped immeasurably by the organ and the atmospheric quality of the recording itself.
"Soul Full of Surfin' Parts 1 & 2" might be even more haunting and atmospheric that "Ghost Surfin'". It definitely has even more of a late night, too many drinks, broken-heart sort of feel. It's a slow, minimalist blues with a flute solo, of all things, and not much guitar on this one.
Side 2 kicks off with "White Cap Surfin'", another one that's a bit like "Tequila" and more uptempo than "Surfin' Surcotash". There's another flute solo on this one.
"Guitar Surfin' Parts 1 & 2" is a pretty standard boogie number, the weakest tune on the record though still not bad.
The last song, "Safari Harry Parts 1 & 2", finds the Ricky Vale band in territory that's somewhere in between Booker T and the MG's and early '60s Henry Mancini.
It's a cool record, worth it just for "Ghost Surfin'"!
---