2012 August 17 • Friday
Back to San Diego's Nickelodeon Records for Guitar's Greatest Hits by Tom and Jerry (Tom Tomlinson and Jerry Kennedy).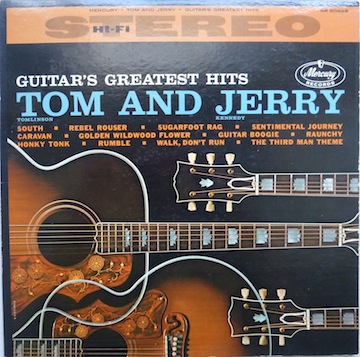 There are actually five guitarists on every tune: Tom and Jerry plus Hank Garland, Harold Bradley and Kelso Herston. Also playing are Boots Randolph on saxophone, Floyd Crammer on piano, Bobby Moore on bass and Buddy Harmon on drums.
There's also a string section on many of the pieces, which probably tells you all you need to know about this record. The guitar sounds are really good and sometimes the strings are okay but they ruin what could have been a nice take on "Caravan".
---