2012 August 10 • Friday
Here's another obscure Canadian guitar record I got at last year's WFMU Record Fair.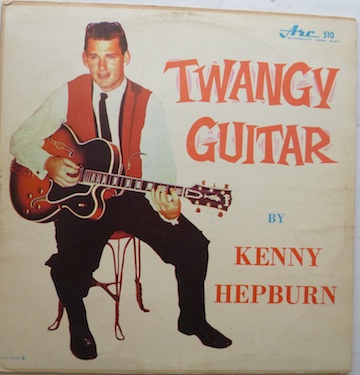 Here is music with a Rockin' Beat and plenty of Twangy Guitar. It's music with the "Big Sound" for dancing or relaxing.
Kenny Hepburn started his musical career with the guitar in Toronto. His first big break was as Lead Guitarist with the noted Don Thompson Quintet and played the top name clubs in Ontario. Later he grew up with the "Rock" school. Kenny has played on the same programs with such well known artists as Conway Twitty, Bo Diddley, Ronnie Hawkins and Duane Eddy. He is now on his way to making a name of his own.
There's no information about the other musicians, who play sax, piano, bass and drums. There's also no composer credits for any of the tunes, though most of them are familiar covers.
"I Almost Lost My Mind", the first piece on the A Side, is a basic blues with a hard-hitting, somewhat raunchy sax sound and an amazing tremolo guitar sound.
This is followed by the popular Bill Doggett song "Honky Tonk", presented here in tow parts. The first part has a long guitar solo, and the guitar has a really rich, full tone. The second part is a feature for the saxophone, which plays the melody and solos.
That wonderful tremolo sound is back and the guitar is most definitely twangy in "3:30 Blues". "Detour is more up-tempo, n addition to that potted biography of Hugh Dixon, the back cover also names the other musicians (Billy Smith on drums, Mwith a "Saints Come Marchin' In" feel to it and more of that wonderful tremolo.
The first side ends with "Lonesome Road", which has B section with an air of mystery about it and a piano solo as well as a sax solo.
"Yep" kicks off the B Side, starting with a groove that's similar to "Wipe Out" as well as another dark, full guitar tone and some interesting harmonic movement in the piece itself.
The guitar sounds desolate in "Stalk'in" [sic], with a haunting quality to its tremolo. The piece is slow and moody with a 12/8 feel. This is followed by "Lonely One", a romantic slow-dance number.
A very familiar piece comes next: "Tequila". They got the cymbal sound right, and that's the most important part. The sax embellishes the melody a bit and plays with the rhythm as well. There's no guitar solo but there is another piano solo and everybodby says "Tequila" at the end.
After this comes a very laid-back take on "Autumn Leaves" with a mellow guitar tone. And then, finally, it's "40 Miles of Bad Road", notable more for the sound of the guitar than what the guitar plays.
---