2012 June 20 • Wednesday
The Melvins continue to surprise and (more important) to deliver with their new record, Freak Puke.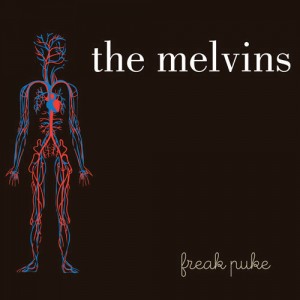 The band is calling itself "The Melvins Lite" this time around because the electric bassist and second drummer from their last few records aren't on this one. Buzz and Dale are joined instead by Trevor Dunn on upright bass. The dark tone and timbre of his instrument combined with the strong, deep, textured and often percussive way he plays makes this "Melvins Lite" record heavier than many of their others.
The first thing you hear is Trevor bowing the bass. He overdubs himself at least twice, creating an impressively varied sonic atmosphere. Buzz and Dale come stomping in and the groove the band gets into, propelled now by Dunn's plucking of the strings, is irresistible.
After that song, called "Mr. Rip Off", Dale gets "Inner Ear Rupture" started. Buzz comes in with some dive-bombing chords and Trevor is soon back to playing arco again. The rest of the song is an impressive bass solo. At the end you hear laughter and then "Baby, Won't You Weird Me Out" begins with a part for arco bass in high register. Buzz and Dale come storming in and after another burst of improvising from Trevor, the band rocks out and settles in for song that's sort of like a sped-up "The Bloat". Again, Trevor's bass playing makes a huge difference, adding accents and textures never before heard on a Melvins record.
"Worm Farm Waltz" begins as high-octane rock and then switches into a slow waltz, with bass switching from plucked to bowed as it does. Combined with Dale's powerful, sparse drumming it creates an atmosphere of doom. There are some strange electronic sounds also, perhaps created by Buzz, whose guitar playing is as impressive as always. More avant bass improv ends the track.
"A Growing Disgust" is solidly in the Melvins tradition, similar to several other songs—such as "The Bloat", again—but with its own identity. (Astonishingly, the Melvins have managed to do something different on almost every album they've ever made.) Buzz gets a magnificent guitar sound for his impeccable lead work.
There's an uenxpected optimism to the sound of the energetic and mostly instrumental "Leon Vs. The Revolution". This song played by a different band with a very different sound, and lots more vocals, could probably be a radio hit. It ends with everybody shouting, schoolyard style, "Fight! Fight! Fight! Fight! Fight!".
"Holy Barbarian" is meditative and comparatively mellow. Buzz is even playing some gentle harmonics. This is another one where the bass makes a huge difference in sound. (I hope there will be more Melvins Lite records). In addition to plucking, Trevor apparently has overdubbed himself playing arco. The result is a richly textured, thick sound.
The title song is next. It begins with some mysterious percussive noise, then a pretty nasty fuzzed out guitar. It's very upbeat and the dark sound of the bass balances the more trebly guitar sound. This is a straight-up Melvins-style rocker, a get in the car and drive fast sort of song.
The next song is the big surprise, a cover of "Let Me Roll It" by Paul McCartney. It's on one of the Wings records. I'm not sure if I'd ever heard it before. I'm not really up on Wings. But I really love this version of it. I checked out the original and was surprised to discover that The Melvins do it pretty straight, not really changing anything but just doing it with their own sound. (Few bands have a sound as immediately recognizable as The Melvins.) After I listened to the whole record I had to go back and listen to this song again.
Finally there's "Tommy Goes Berserk", nearly ten minutes long. It begins briskly but gently, the percolating rhythms pausing for the interjected vocals. After a few minutes of this, it gets harder and darker and there's a lot of blistering guitar work from Buzz. Then it abruptly shifts to a creepy, ambient section with a lot of weird sounds coming from the bass. After this, a pause, then a loop of part of a vocal shout, played forwards and backwards, over and over. Then it stops. There's a pause, then a similar loop, with some additional little sounds. Then a pause, then again. And that's it.
It rocks, it grooves, it mystifies. It's weird and lovable. It's one of the best Melvins records ever. Buy it.
---