2012 January 02 • Monday
Happy New Year!
We'll kick it off with one of our favorites, Nico Fidenco, whose score for Agente Logan Missione Ypotron is the 198th Soundtrack of the Week.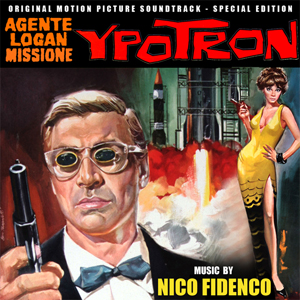 The music actually lives up to that cover!
The first and last tracks are the title song, a psych/garage rock blaster with some great guitar playing. "It could be a bomb / Or a magic potion / Don't be deaf and dumb / When you hear that name." The rhyme scheme falls apart in places.
The same melody gets a work out from a combo featuring slide guitar and organ as the intro to "The World of Lemmy Logan". Then there's a second theme, then some atmospheric music, then the second theme again.
"Unnerving Waiting " sounds like its title, with some deep, low organ notes that recall Henry Mancini's score for Experiment in Terror. Then it reprises the second theme, in a Joe Meek sort of way.
"Agent Logan on Mission" is an instrumental arrangement of both themes. Other cues that are mostly arrangements of one or both of those themes are "Manhunt", "Logan Shake" and "Logan Strikes Back".
"Brainwash" is more suspense music, similar to some of what you hear in The Prisoner. "Dream or Reality" and "Dangerous Operation" are also Prisoner-like.
"Love's Guitar" alternates between sensitive Spanish guitar and the same Joe Meek/Ventures type groove heard in "Unnerving Waiting". More Spanish guitar playing appears in "Romantic Moment". And there's more of the same in "Love Memory".
"Exotica" is a weird piece for percussion and organ. "Spying the Spies" brings back the familiar second theme but in the context of a mysterious and pensive atmosphere. The same mood saturates "Deadly Challenge".
"Unforgettable Love" is a romantic waltz for organ and guitar.
"Final Confrontation" is an exciting stomp that ends with a reprise of the second theme. It's interesting to hear it with this very different rhythmic feel.
---