2009 December 21 • Monday
The ninety-second Soundtrack of the Week is Yasushi Akutagawa's score for Hakkodasan.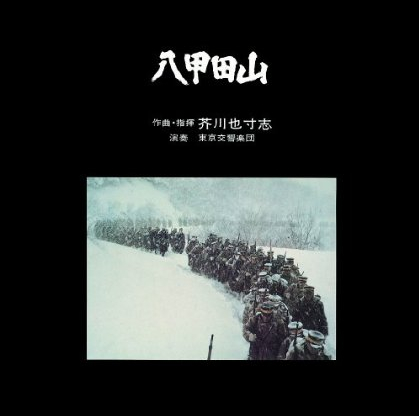 This came out in Japan last month. I already had a few CDs of Akutagawa's music that I enjoyed and was about to select one of them as a Soundtrack of the Week when this came along. According to Ark Square, my source for such things, this is "one of the most long awaited" Japanese soundtrack releases.
The movie is apparently a dramatization of a real-life story, about a military training exercise in the Hakkoda mountain range in Aomori, Japan. As far as I can make out from google's translation of this Japanese wikipedia page, 199 of the 210 people involved died from extreme winter weather conditions.
Ken Takakura starred in the movie and received the "Japanese Academy Prize for Outstanding Performance by an Actor in a Leading Role".
The music by Akutagawa is splendid, presented on this CD in two long suites followed by two short songs that incorporate the main theme. I imagine these are the A and B sides of a single that was released at the time. Were the two long suites sides of an LP? I don't know.
The score for the film incorporates lyrical and poignant strings, trumpeting brass, buttery snare drum, at times reminiscent but not imitative of John Barry, Bernard Herrmann, Akira Ifukube, Miklós Rózsa, and other great composers.
---