2009 September 28 • Monday
The eightieth Soundtrack of the Week is Nic Raine and the City of Prague Philharmonic's re-recording of Exodus by Ernest Gold, recently released as a two-disc "Special Limited Collectors' Edition".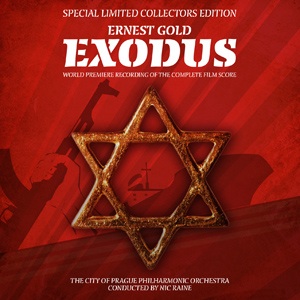 My only complaint about these re-recordings by Nic Raine and the City of Prague Philharmonic is that there aren't enough of them! It was about exactly a year ago that their two-disc set of Rózsa' El Cid came out.
Well, this was worth the wait. The music is stunning, absolutely beautiful and beautifully recorded. The theme is bound to be familiar to you. I remember hearing it on albums by Eddie Harris (whose adaptation of the Exodus theme led to his being the first jazz musician with a gold record) and Shelly Manne (Steps to the Desert, a.k.a. My Son the Jazz Drummer) but it was surely covered by lots of other people.
As great as that theme is, the other music is just as good. "On the Beach", a bewitching and lilting tune (a recapitulation of the "Summer in Cyprus" cue), may be my favorite track here.
The music doesn't quite fill up both CDs, so as bonus tracks you get some re-recorded cues from John Williams's Schindler's List, Sol Kaplan's It's a Mad, Mad, Mad, Mad World, Ship of Fools and Judith, Jerry Goldsmith's QB VII and Elmer Bernstein's Cast a Giant Shadow.
---