Here's another harp, bass and drums trio record, but this one is from 1977. It's Tadao Hayashi's The Impossible Dream, in which Hayashi is joined by Takao Kusagaya on bass and Koichi Suzaki on drums.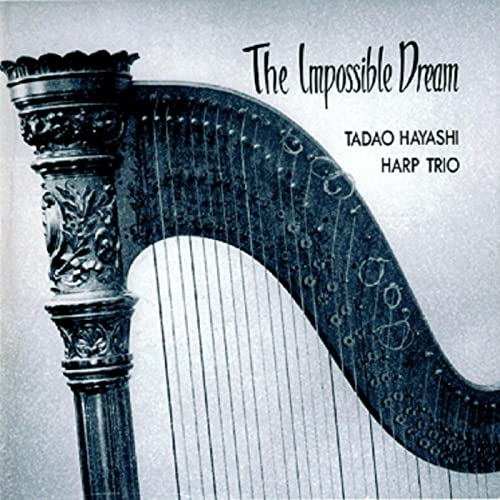 This is a lovely album of mostly very familiar tunes all done in a relaxed and swinging style. One of the highlights is the trio's take on John Lewis's "Django". Antonio Carlos Jobim's "Wave" and Duke Ellington's "Satin Doll" also get nice treatments.
There are a couple of other jazz classics as well: "Summmertime" and "Misty" but they're both played as solo harp pieces and even if you've heard these tunes a million times, these renditions are beautiful and different.
The overlap of musicals and jazz is well represented by "I Could Have Danced All Night", "The Impossible Dream", "My Favorite Things" and Michel Legrand's "Watch What Happens" from The Umbrellas of Cherbourg.
And then there's some seventies gold! Barry White's "Love's Theme" is the Love Unlimited Orchestra disco classic as you've never heard it before: played on solo harp!
"Killing Me Softly With His Song" also gets the solo harp treatment and is a brilliant performance.
This is really quite an amazing record and it's great that it's been released on CD.
---