2021 February 10 • Wednesday
Way back in September 2010 this space contained a screen shot from the Stanly Kubrick movie The Killing. Here it is: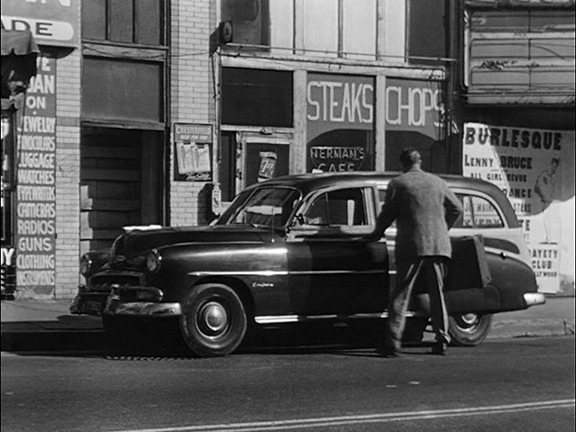 It was notable because of the ad in the background for Lenny Bruce performing at a strip club.
The best thing about writing this blog is hearing from people who have positive reactions to it. One such is Lee Cohen, who recently emailed with more information about this image. He urges us to credit Los Angeles jazz research historian James Harrod, who provided this newspaper clipping, from the Los Angeles Daily Mirror of December 17, 1955.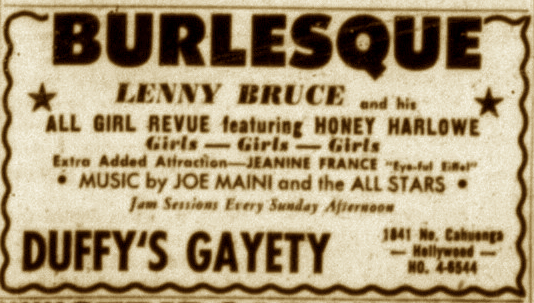 Along with that came this text:
DUFFY'S GAYETY, 1841 N. Cahuenga (HO 4-65111. Genial host and owner, Rocco, presents a well-rounded show that Includes two comics, a stellar singer, and four peppery exotics. Billy "Zoot" Heed, one of the all-time greats of burlesque, heads the current show. "Boots" Malloy doubles as emcee and comedienne. Joyce Manners lends vocal talents. The show Is kept In full swing by strippers Nona Carv- er, Patricia. Lee Bari, Jeannle Carroll and Betty Shay. Just two blocks from the corner of Hollywood and Vine. Rocco keeps the doors open seven nights a week and is always ready with a glad hand for his hundreds of friends.
So it seems that it was, as we thought, promoting Bruce's appearance at the Gayety Club, a.k.a. Duffy's Gayety. Note that Bruce's wife, Honey Harlowe, is also featured.
Cohen also tells us that the bill itself is stuck to the ewall of "a closed theater called The Lux at 827 W. 3rd St, on what was once called Bunker Hill, but flattened in 1967".
Bunker Hill was a very important location for movies in general and film noir in particular and Jim Dawson's book about it, Los Angeles's Bunker Hill: Pulp Fiction's Mean Streets and Film Noir's Ground Zero is well worth a read.
Thanks again to Lee Cohen and James Harrod for enhancing our appreciation of cultural ephemera!
---