2019 June 07 • Friday
Here's another Gene Bertoncini record, and a very unusual one: Evolution!.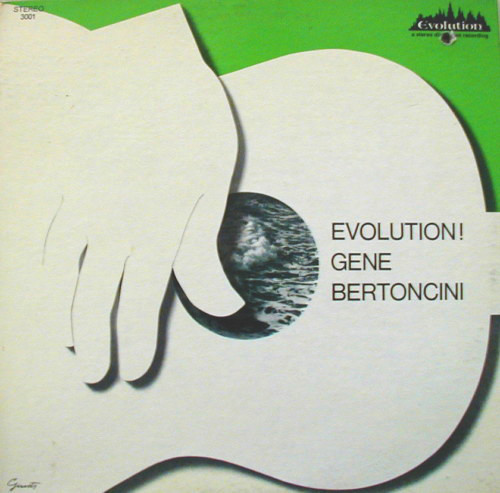 There's a lot of guitar on here and a lot of other stuff too.

According to the liner notes, Gene plays rhythm guitar and then ovedubs lead guitar on top. It says he always plays his unamplified nylon-string guitar no matter what but also throws in some twelve-string guitar on the tune "Gia's Theme".

But then Bucky Pizzarelli and Ralph Casale are also credited with rhythm guitar, and Al Casamenti with electric guitar. And there are also Walter Levinsky, Joe Soldo, Don Ashworth and Romeo Penque on woodwinds, Chuck Rainey and John Beal on Fender bass, Dick Hyman and Paul Griffin on organ, Donald MacDonald on drums and percussionists Bobby Rosengarden, Jack Jennings and Phil Kraus. That's a lot. It's something of a miracle that none of this sounds busy or overloaded. It's very late '60s / early '70s sounding. You're either going to think this is cheesy or you're going to groove to it. Guess which one I did! I really like it a lot. I will admit that it's not my favorite cover version of "One, Two, Three" (I like The Peanuts' take on that) but the samba interpretation of Simon & Garfunkel's "Mrs. Robinson is terrific.

My favorite tune on the record, however, is a Bertoncini original called "You Are a Story". It's got a killer pulse and sway as well as a lovely melody.

There's a Bacharach song ("I Say a Little Prayer") and two by The Beatles ("Here, There and Everywhere" and "Hey Jude"),l among others.

Next time I see Mr. Bertoncini, I hope to ask him about this interesting, unusual and delightful album.
---