The WFMU Record Fair was in Brooklyn this year, something I did not discover before leaving Brooklyn to go to the fair's previous location in Manhattan. So there was a little extra subway riding that day but I had my book with me and I got there in time to see Pramrod Sexena. And of course there were records, and some of them were soundtracks. Perhaps some people have been reading this and wondering when I was ever going to mention original music for an industrial film. This one's for you: Marion Evans's score for Race for the Wire, a movie which has something to do with the manufacturing of aluminum, and the 369th Soundtrack of the Week.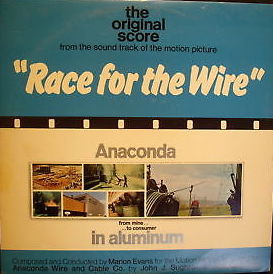 There's one of these on eBay right now, for about seventy dollars. It is not, in my opinion, worth that much money. (But I wouldn't pay that much for any record I can think of).

It's mostly easy listening and loungey music, not especially ear-grabbing or interesting. Some tracks, which have kind of a Bacharach Casino Royale feel, sound extremely familiar and I wonder if they managed to find their way into other soundtracks. Maybe this music ended up in a stock library after this.

(According to the liner notes this is an original score, not library music.)
---
2015 May 01 • Friday
Here's an appropriate book for May Day, Darryl Cunningham's The Age of Selfishness: Ayn Rand, Morality, and the Financial Crisis.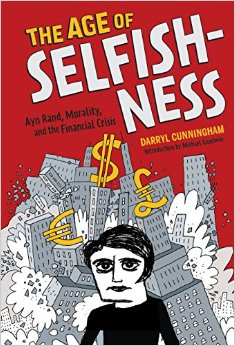 The first part of the book is a biography of Ayn Rand, where she came from, who she was, what she believed, how she acted. Cunningham doesn't go deeply into her story but provides what appears to be a good sketch of the person and how influential she was and still is.

The next part goes into the recent financial crisis and how it came about. This is the strongest section of the book and does a terrific job, as far as I can tell, of explaining in simple terms what happened, why it happened and who was responsible.

Of course the telling of the repercussions is the most infuriating and depressing part. Cunningham doesn't use this analogy, but I always thought of it as if an army of assholes got really wasted, hopped into their Ferraris and caused a massive car pile-up that destroyed millions of cars and hundreds of thousands of highways. And then the government used taxpayers' money to buy them new, better Ferraris and introduced austerity programs to pay for rebuilding the roads.

It's actually that bad.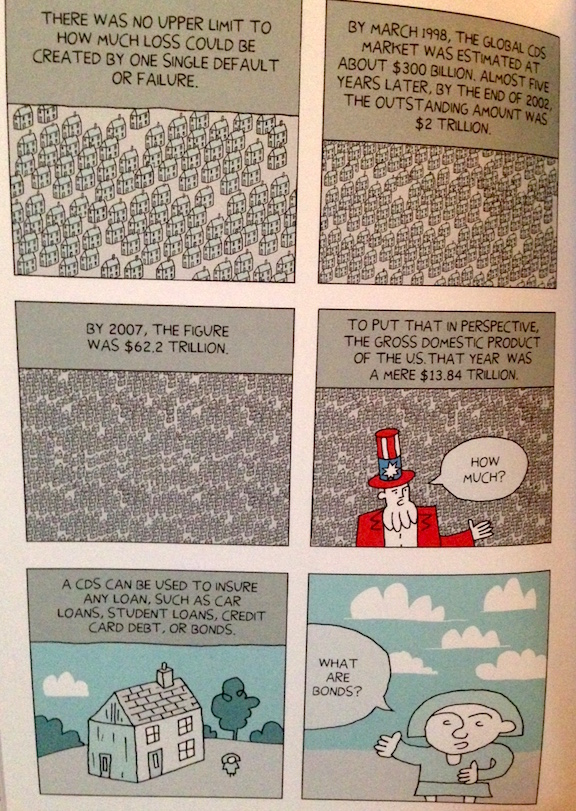 The third section, in which Cunningham not very helpfully sounds off on the differences between "conservatives" and "liberals", is a bit of a muddle and could have been left out, with whatever salient points about health insurance and such worked into the financial crisis section or left to stand as a brief postscript.

You might think that it would help to tell people that they're voting against their own interests, but this generally comes off as condescending. And does it work on you, when the other teams do it?

The Age of Selfishness might have been improved by expanding the sections on Rand and the financial crisis and allowing readers to see for themselves how only the interests of a tiny segment of the population—much smaller than one percent, I believe—are served by deregulated financial markets and the corruption of democracy by wealth.
---