Here's a great new comic, Jesse Reklaw's memoir of being a child, a teenager and a young adult. Reklaw had previously done great comics of people's dreams. It's nice to find out some things about him now!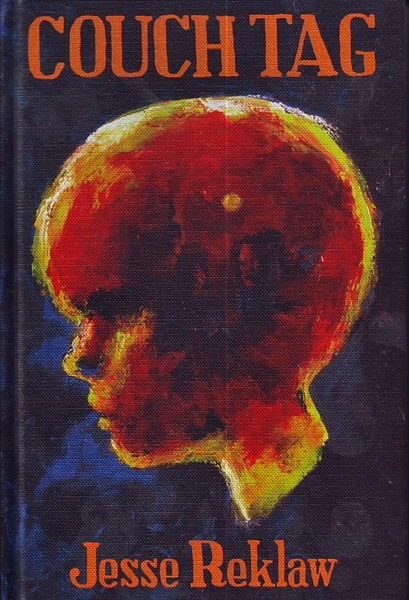 Each story has a certain trigger. There's a series of cat stories, a series of toy stories, stories born from certain games and products of the young Jesse's imagination.
At the heart of it is Jesse's trying to place himself within his family and community, a challenge since his parents and sister are, to put it delicately, quite lively.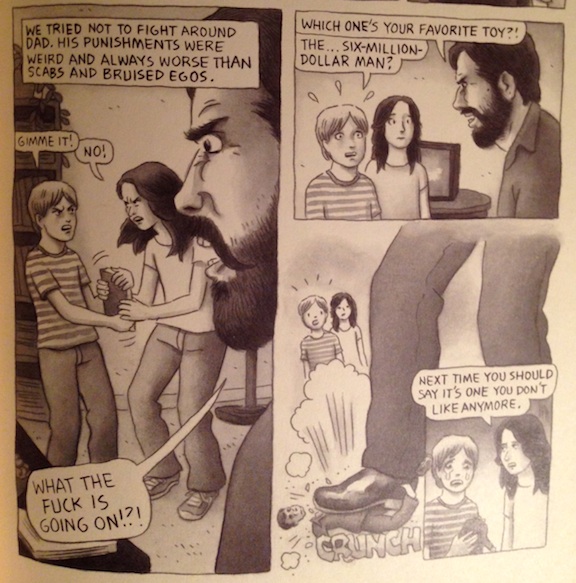 Most of the book is in that monochrome style. The last section is radically different, exploding into color with a very different approach to the artwork; the stories are presented as an alphabetical series of recollections.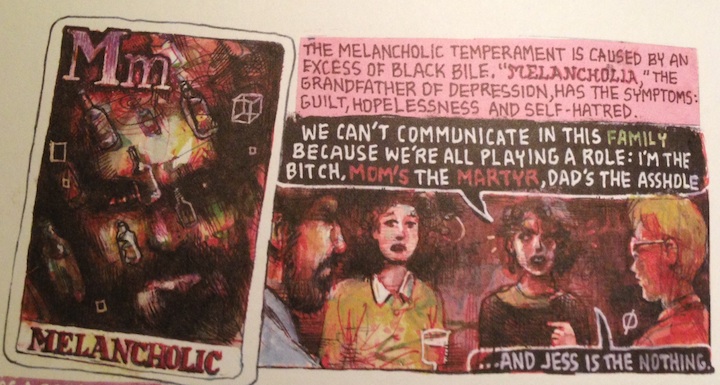 A wonder of this book is that its contents don't feel scattered. All of these small pieces come together to create a moving portrait. I didn't want to put it down and when it was finished I wanted more.
---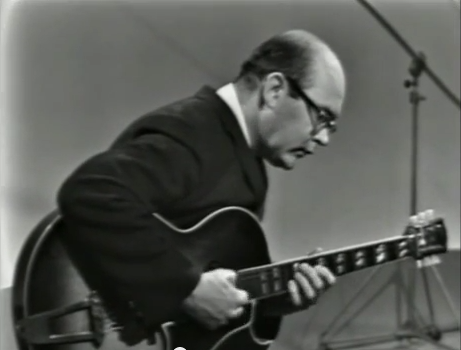 Jim Hall
December 4, 1930 – December 10, 2013
---
The 296th Soundtrack of the Week is Peter Thomas's score for The Big Boss (a.k.a. Fists of Fury), a rather important movie for one Bruce Lee.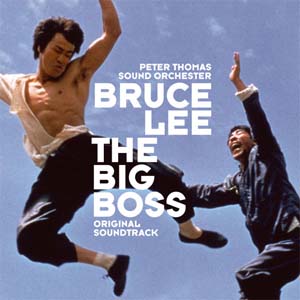 As I understand it, German composer Peter Thomas was hired to write a new soundtrack for The Big Boss in the hopes of increasing the potential for whatever profits would come from the film's international distribution.
He hit it out of the park. The "Big Boss Theme" has very Thomas-like use of cheeky brass lines over pounding and pulsating rhythms. Fans of his Raumpatrouille (Space Patrol) music will be on familiar ground here.
Menacing and slinky electric guitars combine with some freaked out synth sounds to create "Mukuri". And then we've got to get sappy with "Girl Loves Cheng Li", which has reverb-drenched flutes and various romantic touches.
"Hard Drugs" is fuzzed-out acid rock, while "The Amulet" is a re-arrangement of the main theme for a more subdued acid rock combo with horns.
The tempo picks up for the driving "Finding the Drugs" which has some startling guitar parts, notes you probably wouldn't expect. Then the "Girl Loves Cheng Li" returns as "China Love" in which trombone takes the melody.
"Malaparte Sinus" is a curious name for a piece. I'm guessing that this and the next track, "Communication in Hyperspace", are among several that Thomas had written for some other use. (There wasn't a lot of time to put together a full score, so Thomas requisitioned some library cues he's composed.) The former is like prog sci-fi with a surprisingly lyrical flute line amongst the synth freak outs and driving drums. "Communication in Hyperspace" is a weird electronic cue which matches its name rather well.
"Cheng Li and His Friends" is another arrangement of the main theme, similar to "The Amulet". That theme also shows up in "Big Boss and His Gang" and the weird and spacy "The Fist of Fury".
An atmosphere of dread is created by "EKG" while "Blood and Dead Friends" is explores territory very similar to "Hard Drugs".
"Moontown" is a different-sounding kind of cue, with classic Peter Thomas horns blaring away and a psychedelic acid prog concept holding forth.
There are about four seconds of sweet music starting off "Revenge and Corruption" before an insistently pounding piano and other instrument crash the party and bring us onto dangerous ground. Then there's the bizarre, outer-space lounge music of "Dream for Two" and the thumpy and swinging "Bruce Lee Forever".
---
Here's the other Les Jaguars record I got at the WFMU Record Fair.
It starts out on the gloomy side again with "Maria Elena", which has an occasional sprightly guitar line.
There's some impressively frantic guitar picking with echo on "Supersonic Twist", which has a great sound in general.
"Mer Morte" is sad again and has a great atmosphere.
The highlights from the second side are the swampy twang of "Le Repos du Jaguar"—in which the guitars blend to produce a frog-like sound—and the Link Wray-like cruncher "Arvida, Nous Voici", both Les Jaguars originals.
There's also a nice cover of "Adventures in Paradise".
---
The WFMU Record Fair has come and gone again. Once again there was this dealer from Canada with a bunch of intriguing early-'60s instrumental rock records—from Canada! I'm not holding my breath waiting for these things to become available in some digital format. Instead I'm just buying the damn records and listening to them.
First up is this album by Les Jaguars.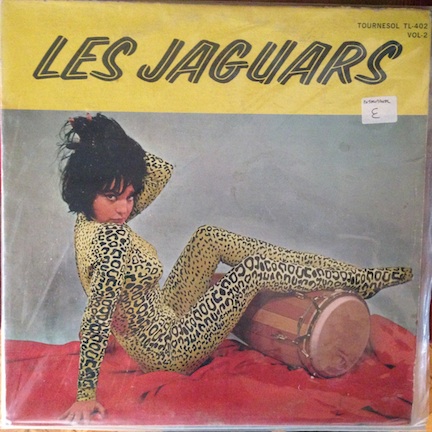 Some might buy it for the cover alone. The music is pretty good also!
What I like about this group is that their sound is unusually dark and gloomy. Even when they're playing upbeat, peppy numbers they don't have a bright, happy sound.
The first tune on the first side is my favorite. It's a haunting, minor-key piece in 6/8 time and it's called "Solitude", just to make sufe you know it's not about partying.
The next number, "Melle Yeye", is a bit more rocking but still pleasantly lugubrious. Call it sulk and roll.
There are only two covers, "Honky Tonk" and "SleepWalk", of which the latter goes by the name of "Dors Mon Amour".
Side two is cheerier than side one. "Jaguar Shake" is particularly upbeat, thanks mostly to the energetic rhythm section.
Thumbs up on this one!
---
One of the greatest things the Intrada label has managed to pull off is releasing the original soundtrack recordings of classic Henry Mancini scores from the 1960s.
These had never been released though in most cases extremely successful albums of re-recorded selections had been available. But now we have the real thing! Intrada has already given us Charade, Hatari!, The Days of Wine and Roses and now our 295th Soundtrack of the Week, Breakfast at Tiffany's.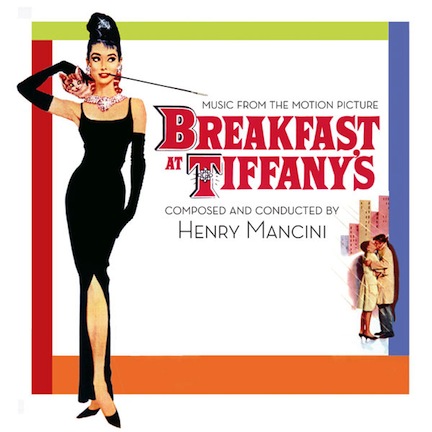 I don't like the movie and Audrey Hepburn doesn't do anything for me but this is Mancini at his best!
The music doesn't need any introduction. All you need to know is that there's almost 80 minutes of it, including rarities like a "Moon River" demo.
My favorite piece from the album is probably still my favorite music on the score "Something for Cat" with what sounds like Ted The music taking a great saxophone solo, a piano solo from either Jimmy Rowles or Ray Sherman, great guitar comping from Bob Bain and killer percussion grooves from some combination of Shelly Manne, Larry Bunker, Roland Hallberg, Milt Holland and Bernie Mattinson. And now we get to hear how this groove continues with "Loose Caboose"!
---