Here's yet another great mid-century British apocalypse novel, The Death of Grass by John Christopher.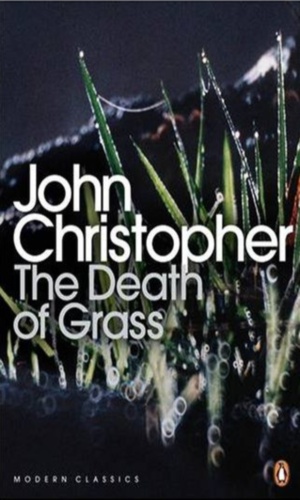 In this one a virus destroys all kinds of grass plants. These include rice, wheat, barley, etc. The resut is famine, rioting, cannibalism and an almost immediate abandonment of all the niceties of civilization and social order. The main plot concerns a small group determined to get to a safe haven in the north of England, a valley where the main character's brother is growing potatoes and beets and raising pigs. The valley is such that a small group could successfully defend it from an army.

It takes almost no time at all for these decent, ordinary people to become murderers and thieves. It takes less time for many others, of whom some are attracted to more vicious crimes.

The Death of Grass is quite gripping, and gruesome and brutal as well, all the more effectively because it's understated and restrained. Once again it's demonstrated that nightmarish situations can be more disturbing if a substantial amount of their content is left to your imagination.

This edition has an introduction by Robert Macfarlane that's worth reading. (Not all such introductions are.)

The first line is "As sometimes happens, death healed a family breach".
---
2015 March 02 • Monday
Let's get one thing out of the way about the 360th Soundtrack of the Week. It is a very strange record. It's technically not a soundtrack but a compilation of new recordings of different pieces of soundtrack music. We have encountered such records before, but not one like this.
We refer to Petra Haden's Petra Goes to the Movies.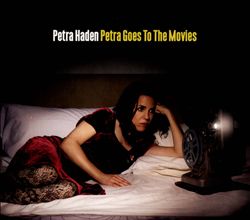 It's not for everybody. I've heard some unkind things said about it. Haden exploits the potentials of multi-track recording to sing the parts of all the instruments needed to interpret the music. This creates a very unusual sound, to put it mildly. sound. It doesn't take long to get used to it. The record starts with a sudden immersion into Haden's concept, with Leonard Rosenman's blaringly modern and dense theme to Rebel Without a Cause. This is a bold move. She doesn't try to ease you into what she's doing here.

But her choices of material and the sequencing is probably flawless, if you ask me. Bernard Herrmann cues from Taxi Driver and Psyscho both receive respectufl and faithful interpretations that nevertheless transform the original music into something new.

John Barry's famous theme song from Goldfinger is the first song on the record to be sung with words. Haden's vocal renditions of the original's wailing brass instruments is strangely soothing.

Morricone gets two in a row, Cinema Paradiso and A Fistful of Dollars, both superbly done. (Haden's handling of the percussion parts on the latter piece, particularly the snare drum, is brilliant.)

She could easily have done this all herself but the overall effect is definitely enhanced by a very precise and delicate sprinkling of other musicians.

The first of these is guitarist Bill Frisell, who lends his incomparably tasteful support to the song "It Might Be You" from Tootsie.

Frisell returns with bassist Charlie Haden (Petra Haden's father) "This Is Not America" from the movie The Falcon and the Snowman.

And finally pianist Brad Mehldau joins Haden for the song "Calling You" from Baghdad Cafe.

The strength of these three pieces is that they could be played live. Haden does some background vocals here and there but keeps the arrangements very spare and spacious. While these tracks don't share the virtuosity on display elsewhere, they demonstrate persuasively that Haden is a great singer.
---