Michael Gilbert has never disappointed but this book, Fear To Tread, exceeded my high expectations.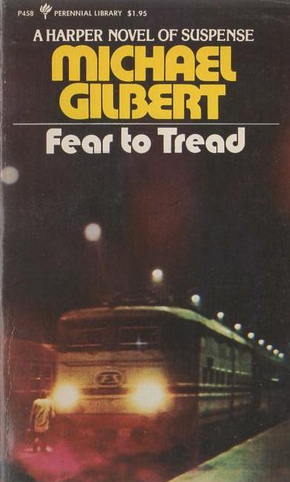 Set in London shortly after the end of World War 2, it's about a mostly ordinary, entirely believable middle-class man, the headmaster of a boys' high school, and his unexpected, accidental and inexorable progress, as if drawn by a magnet, into the center of a labyrinth of organized crime.

The crime in question is mostly black market activities, the theft and resale of rationed foodstuffs but also, well, anything that can turn a profit.

It's an intricately constructed book. No words are wasted and no detail is irrelevant. It's surely a sign of Gilbert's skill that everything is so neatly connected, often poignantly so, and all loose ends so neatly tied up but without ever seeming artificial or contrived.

The day after you finish the book, you might find yourself regarding its ingenuity with a slightly more critical eye, but of course you would be no longer under the spell of Gilbert's writing, his impeccable pacing and jeweler's touch.

It's a very "British" book, in the old school tie sense of Britishness, and you have to accept this particular reality to accept the book. Most satisfying, though, is that our hero, Wilfrid Wetherall (who does indeed "weather all"), never becomes a man of action or violence. There is no hidden tiger inside him. He remains the same and perseveres by way of simple virtues that could be exercised by any sane person.

It's also perhaps a tip of the hat to Eric Ambler, woh wrote some similarly plotted novels. As I remember, the only character ever mentioned who doesn't have some part to play in the actual story, is a Mr. Ambler.

The first line is "When Wilfrid Wetherall learned that the boys called him 'Wellington' Wetherall he was not displeased".
---
2015 July 01 • Wednesday
Here's another book I found on the street recently, George Alec Effinger's Felicia. One of its previous homes was a public library in South Dakota.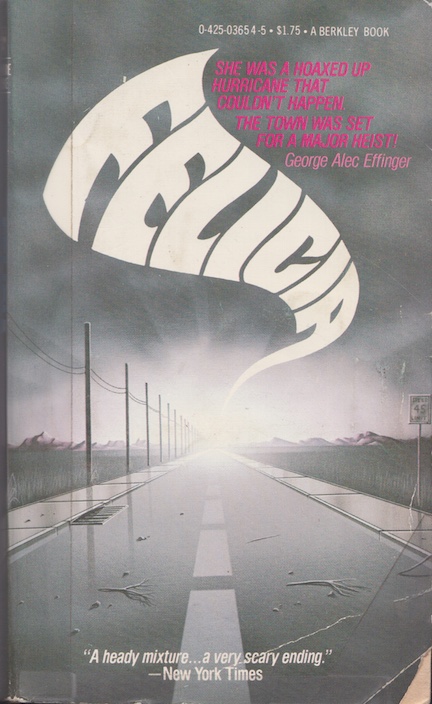 The story is worthy of Mission: Impossible. A criminal mastermind is feeding a small Gulf Coast town fake weather information to trick them into evacuating before a deadly hurricane hits. There isn't really going to be any such hurricane, of course, just an empty town ready for plundering.
This is a fairly ludicrous idea. But don't worry, Effinger's got it covered.
First he makes the book about a handful of characters all fighting personal demons. Then he builds the story so gradually and so realistically that its implausibility gently fades.
Best of all, though, is the twist that comes near the end.
It's an excellent crime novel and also more than that. The first line is "The Lousiana town was named Arbier, after a French priest who had ministered to the spiritual needs of the area's Indian population, back when the area's population had been only Indian".
---